We've been working hard to help the abused and neglected youth in our community find safe,
permanent homes. Here's what we've been up to lately:
A CASA Story: Rob & Zach
  by Madelyn Janssen of KGET

 Navigating the foster care system can be confusing and downright scary. Studies show foster kids 
are more likely to wind up in prison, homeless, or parents at a young age. 
That's where Court Appointed Special Advocates (CASA) of Kern County comes in.
The organization gives foster children Advocates, who sometimes turn into mentors.
It's a program that can be life changing, some might even say life saving.

   Zachary Sanders has been through a lot in his 19 years. He ended up in the foster system
when he was four years old."My mother was a drug addict. I was adopted for a little bit.
I was kicked out, I suppose you would say, of my adopted family."
Sanders was used to not being able to count on anyone, so he pushed away even those who wanted to help.
"You constantly meet new people. You get put in a new foster family. They make all sorts of promises,
'Oh, we love you, we're going to be your last family.' Then two months later, 'Oh, you gotta leave.'"
When he was fifteen-years-old, Sanders was assigned a CASA volunteer.
He didn't expect Rob White to stick around long.
"Kids have people come and go and everybody is being paid to be part of the system.
That's where I have an advantage over all of them, because I am a volunteer," said White. 

  White has been a CASA volunteer for five-and-a-half years. He has had seven cases in that time.
A CASA volunteer learns the child's case and history, then advocates in court
for the child's best interests.
Sometimes that means working toward a permanent home for kids who've been bounced around
all their lives. Sometimes they help implement educational interventions. 
And sometimes, like in Sanders' case, the CASA can point the child in a new direction. 
"He helped me start stepping in the right way. He talked me into going into 
the Grizzly Academy in San Luis Obispo." The academy is for at-risk students. 
It was a turning point for Sanders. 
After graduating, he decided to join the Marines. "The Marines is like a family and I've never really had 
that much of a family before." Now, at 19, he has graduated from boot camp and
is in training in Oklahoma City. 
But he'll forever be grateful for the impact CASA had on his life. 
"I would probably be somewhere in the gutters in Sacramento still, if it wasn't for you guys."
  White and Sanders still keep in touch. Meanwhile, White is working on a new case. 
"The kids are good kids but they're not given the tools to make good choices. As a CASA worker, 
you know their story, and know how to be able to gain their trust so they will listen 
to good options they would never have considered before."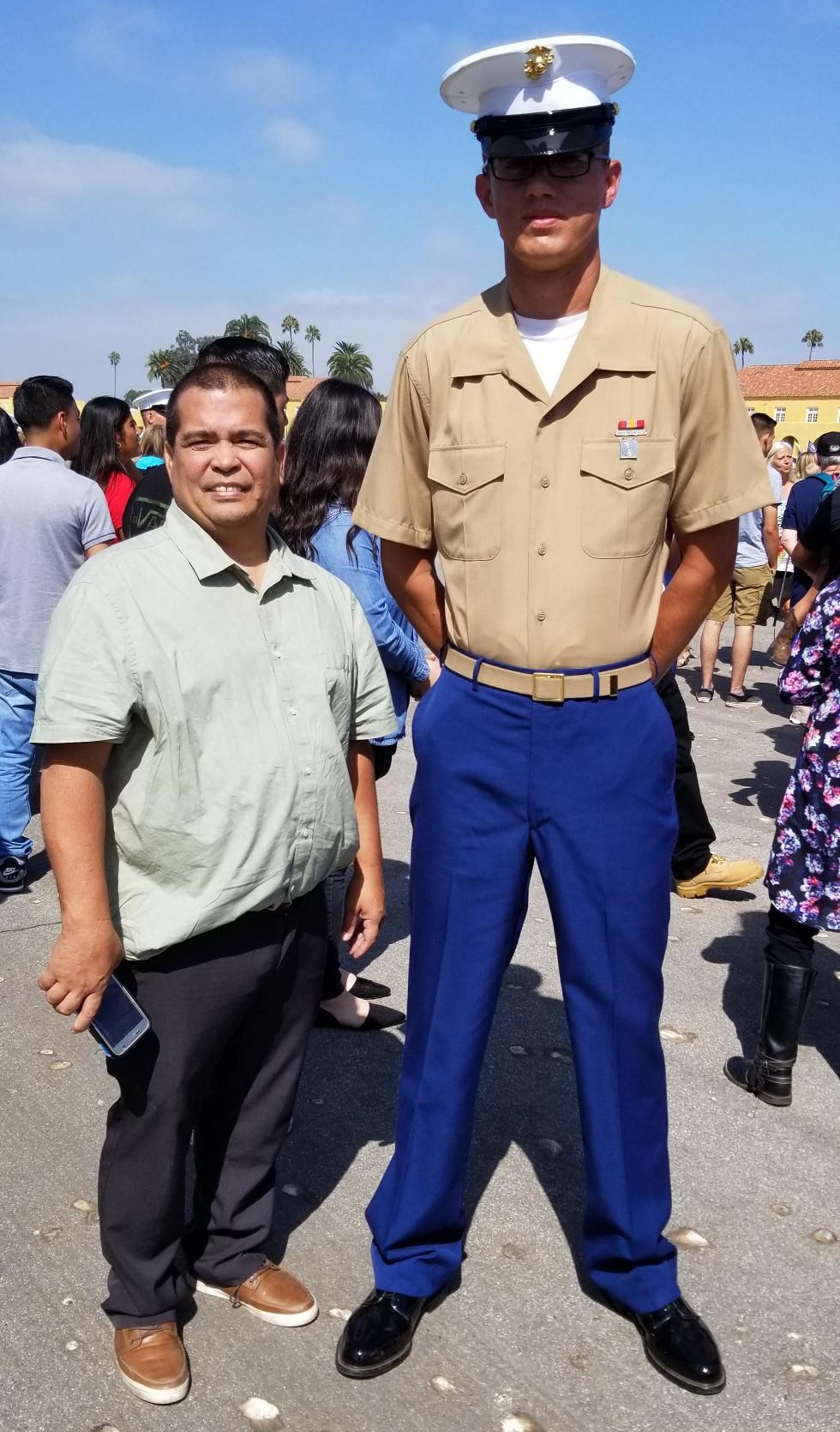 Rob (right) & Zach (left) at Zach's Marine boot camp graduation.
Advocate Spotlight: Diana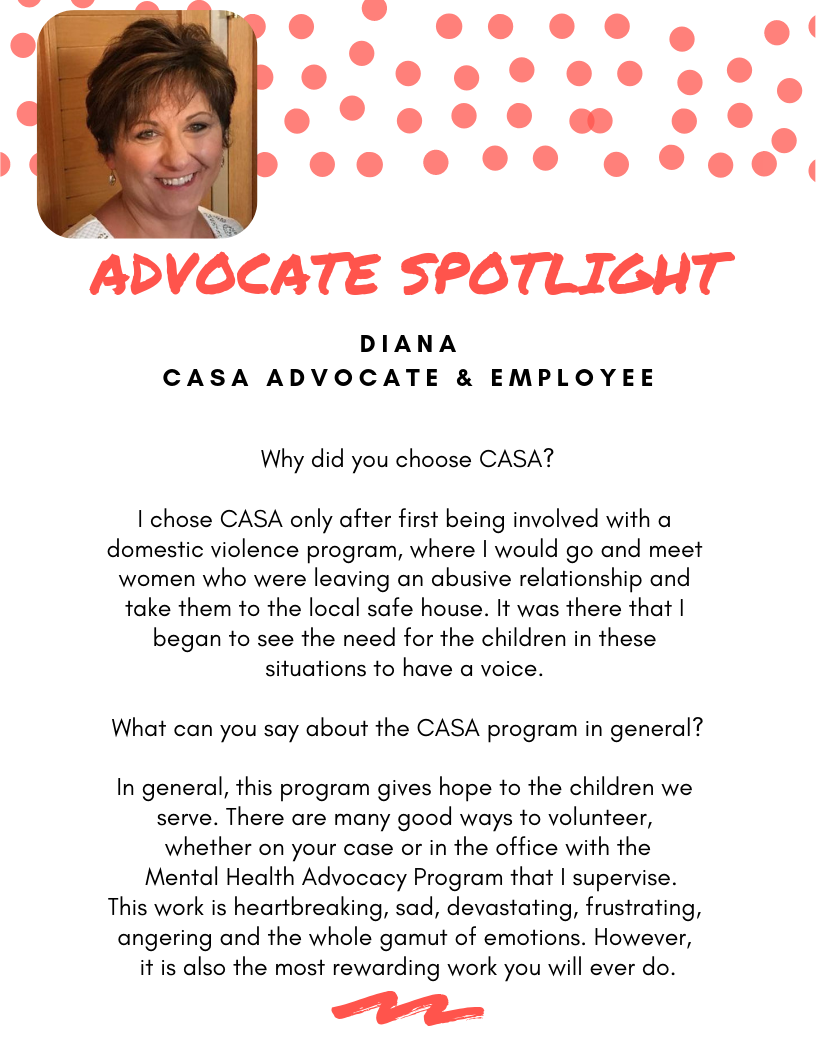 Advocate Spotlight: Scott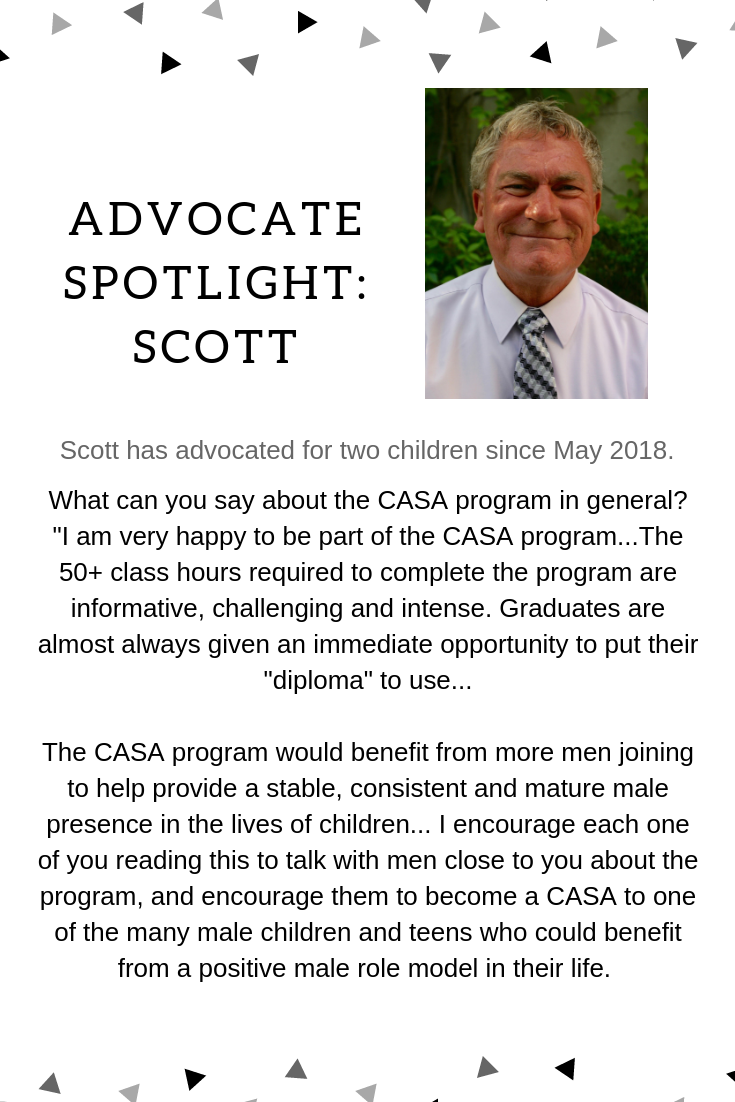 CASA Testimonial
Edgar's juvenile dependency case closed almost ten years ago, but his CASA made a lasting impact on his life.